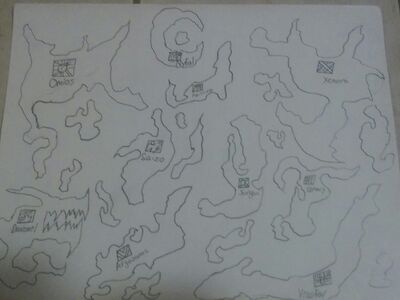 Summary
This verse was created by Dragonmasterxyz on September 26, 2015. This is part of the Xros Revolution multiverse.
About the Verse
A universe where war is common all over. A lady by the name of Izayoi challenges the worlds greatest warriors to do battle in a fight to become the strongest in the universe. But first they must defeat her. And what's more they have to defeat each other. Each character has a story line in which is considered canon. This opens the path to nigh-infinite diverging timelines.
Power of this verse
This verse can be considered a top tier verse as all characters are High Multiverse level+. This is due to the fact that all characters have a canon sroryline that involve defeating Akashiua, who is the incarnation of the last page of the old Akashi Book. This verse contains some hax. From atomic regeneration to Universal creation. With characters who can cross the universe in minutes and protection against durability negation. This verse surpasses the Seiya-verse and Digimon verse. This is the 3rd Strongest Xros Revolution Verse.
Character Files
Omiasian:
Evanlion:
Draconan:
Argasunan:
Xenorian:
Maizinzan:
Nyfan:
Sungarian:
Umarian:
Vrasfarian:
Saizan:
Ad blocker interference detected!
Wikia is a free-to-use site that makes money from advertising. We have a modified experience for viewers using ad blockers

Wikia is not accessible if you've made further modifications. Remove the custom ad blocker rule(s) and the page will load as expected.